Robert F. Kennedy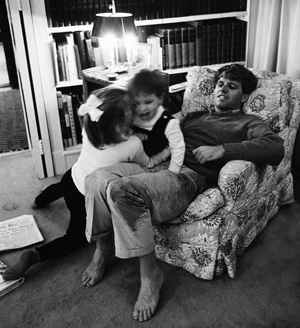 After pausing for King's funeral, the Democratic nomination race resumed at a rapid clip. Vice President Hubert H. Humphrey entered the contest on April 27. Meanwhile, Kennedy and McCarthy duked it out in a handful of state primaries with Kennedy taking the lead.
The final, crucial primary test was in California - a race that Kennedy won on June 5 (he won South Dakota's primary the same day). "This was one of the great moments of Robert Kennedy's life," Clarke says. "He realized there was a strong chance he was going to get the nomination."
Kennedy was tired from relentless campaigning. He really wasn't up for the victory celebration already underway that night in Los Angeles. But network television cameras were waiting for him at his campaign headquarters at the Ambassador Hotel. So was an employee in the hotel's kitchen named Sirhan Sirhan.
A jubilant crowd roared and cavorted when Kennedy entered the ballroom at midnight. He made some weary jokes and thanked his supporters. He thanked his dog, Freckles. Kennedy spoke of the "obligations and responsibilities to our fellow citizens" that had been a foundation of his campaign, and then declared "on to Chicago" and the main contest - the nominating convention.
Kennedy usually left a campaign event by making his way through the crowd - he disliked slipping out the back. But on this June evening he was guided through a passageway to the kitchen. The mentally disturbed Sirhan was waiting for him in the crush of people. The kitchen staff reached out to Kennedy for a touch or a handshake. Sirhan fired a small-caliber pistol, fatally wounding Kennedy and injuring five others.
Robert Kennedy was pronounced dead at 1:44 a.m. on June 6, 1968. He was 43 years old. After a funeral mass in New York, Kennedy's body was carried by train to Washington. Crowds lined much of the route. Little League teams in uniform stood with caps over their hearts. Women in a wedding party threw their bouquets at the funeral car. Kennedy was buried near his brother, John F. Kennedy, at Arlington National Cemetery.
Whether Robert Kennedy could have won the Democratic nomination or the November general election remains a source of debate. As journalist Evan Thomas notes, "Americans were afraid in 1968, and they eventually voted their fears and elected Richard Nixon." Thomas says the notion that Kennedy would have been elected has "hardened into myth."
Historian Thurston Clarke believes that, had Kennedy lived, he would have been a unifying force at the party's disastrous convention in Chicago two months later. Anti-war demonstrators repeatedly clashed with police, who fought back with tear gas and riot batons. That event - and the eventual loss to GOP candidate Richard Nixon - toppled a weak and outdated Democratic Party structure.
"Those terrible scenes [at the convention] that were televised linked the Democratic Party with violence and protest and a lack of patriotism in the minds of so many voters," Clarke says. "This has been an albatross hung around the neck of the Democratic Party for 40 years."
Not surprisingly, Frank Mankiewicz, Kennedy's press secretary, believes his candidate would surely have been elected president. He says the nation would be different for it. "Robert Kennedy was really the last candidate - probably until this year - who commanded the respect of white and black Americans and might have bridged that terrible chasm which has gone on ever since," he says.
Back to Campaign '68.